Some days ago, an Iguana X100 was delivered in Granville. While the team is accustomed to sending boats all over the world, this destination particularly resonated with the company's history. Iguana Yachts was born from a personal problem. Antoine Brugidou, founder of Iguana Yachts, spends half of his time in Granville where he has enjoyed sailing for more than 40 years but where the tides are very high, which makes launching a boat very complex. Places in the harbor are rare and expensive, there is little infrastructure on the coast, maneuvering with a trailer and a tractor on the beach can be dangerous. Iguana Yachts was born out of a desire to simplify the launching process and the sailing experience in general.
CAN WE GET A REAL BOAT THAT CAN TAKE US BACK TO THE BEACH?
There were many projects that existed, boats that were imagined in the 18th century and even before, but all these inventions were real contraptions, complicated and not beautiful on land. The boat was not seaworthy. So, the constraint that was set for the designer was that it should be a real boat and that once at sea, you could hardly tell the difference.
One of the interesting elements of this project is that they started by saying that they were going to make a boat. Then, they became interested in the problem of land mobility and realized that this problem was as complicated, or even more complicated than moving a boat on the sea, and the integration of the two is even more complicated. So, finally, they gradually put together a team of people from very different backgrounds: designers, specialists in automobile prototypes, construction, manufacturing… This is what makes it a very rich project integrating a lot of know-how.
HOW DID THE DESIGNERS AND ENGINEERS MET THE CHALLENGE?
The fact that the Iguana can go up on land generates a lot of technical and design constraints that had to be hidden in favor of the nautical aspect and its design because one of the requirements was to make a very elegant boat. The initial problem was that the boat should also be able to go up on quicksand and soft ground, and the caterpillar quickly became a necessity in terms of use and design. The fact that the track is on the side of the boat makes it relatively easy to understand and not too technical.
There was a whole design phase where they came up with this caterpillar concept, then the collaboration with a naval architect to approach the nautical parts of the boat in a more serious way. This collaboration also brought a lot to the design, with very sharp lines and a piercing bow, which has the advantage of going through the sea very well, and which reinforced the elegance of the boat. There was the objective of making it a very beautiful object, which is worked on through the lines and materials. They also wanted a boat that was a little original, out of step with what was being done, particularly in terms of comfort. They worked a lot on the notion of accessorizing.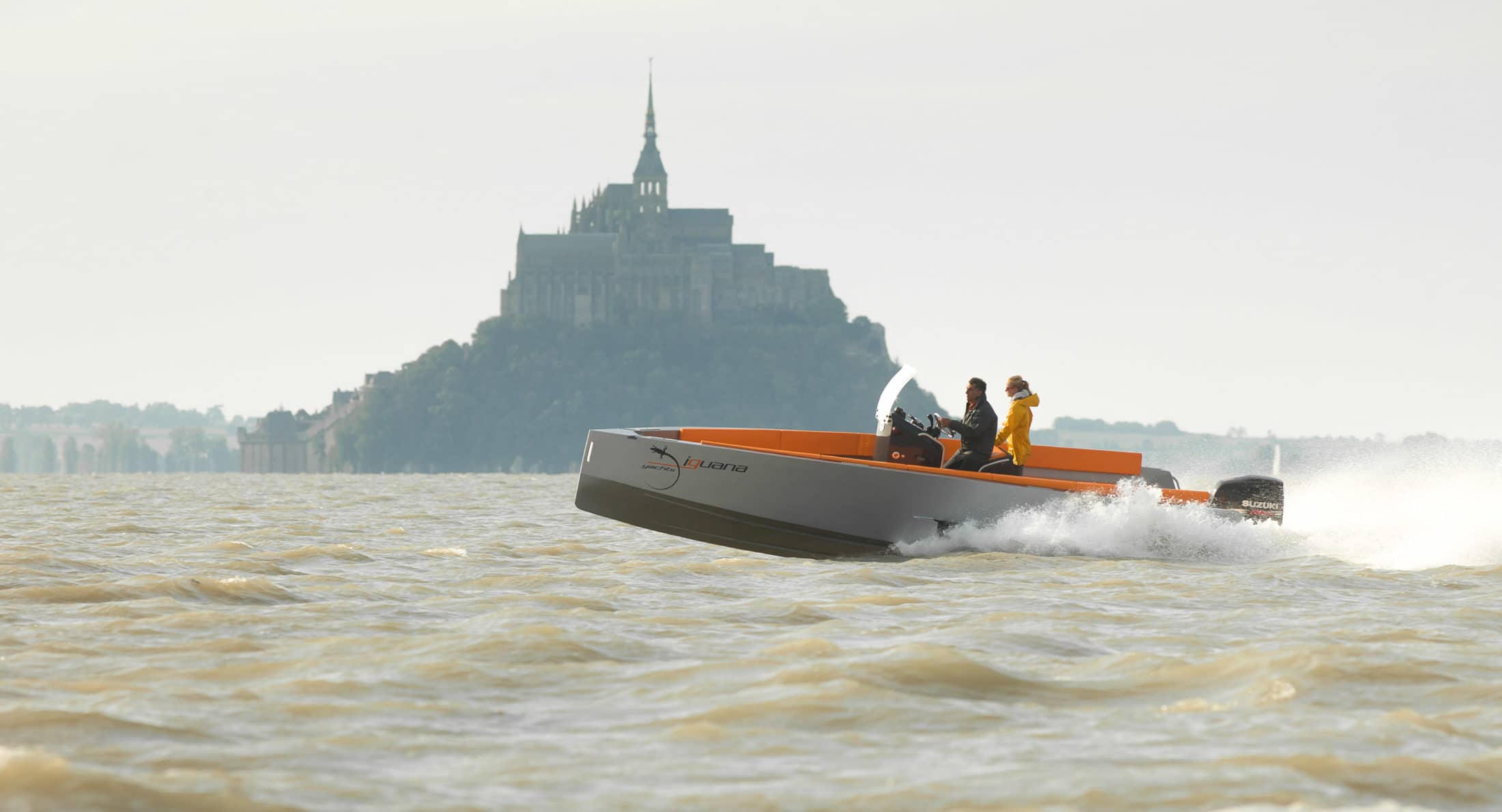 2011 – First prototype in Normandy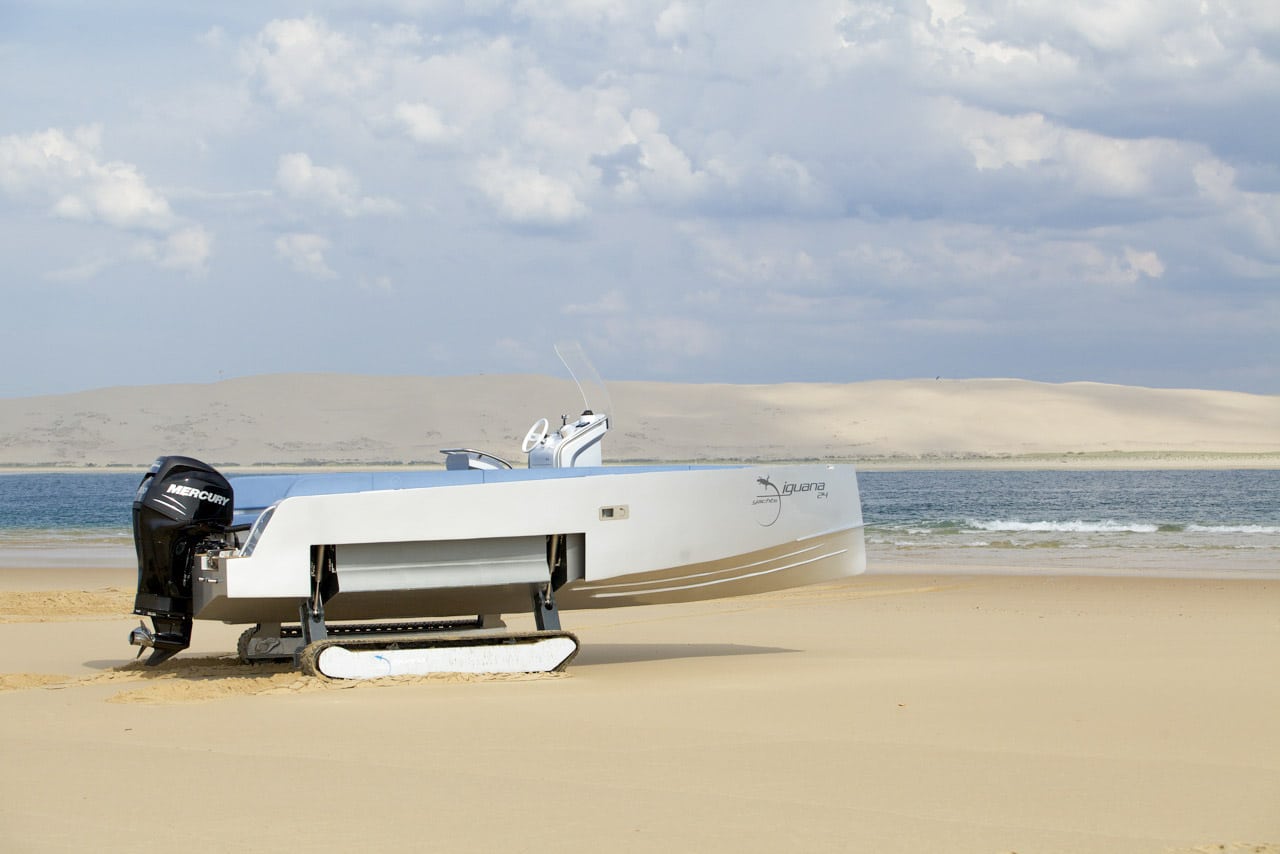 2012 – Second prototype in Arcachon
FROM THE IDEA TO THE FIRST MODEL
Together with his long-time friend and designer Antoine Fritsch, Antoine Brugidou first embarked on the project in 2008, with the objective to create a seaworthy boat with integrated landing gear. Many were amused by their audacity, but after toiling with a range of solutions they settled on a final design for the iconic Iguana Original which exceeded all expectations.
After five years of R&D, the first boat was sold to a client in the Middle East in 2013, which opened their eyes to the further potential of its amphibious capabilities. People from all over the world were suddenly keen to express their needs, from landing on remote islands in the Bahamas to embarking a family member with a physical disability. It became clear that Iguana Yachts' concept could radically change the traditional boating experience for a range of different people, offering new solutions for safety and access.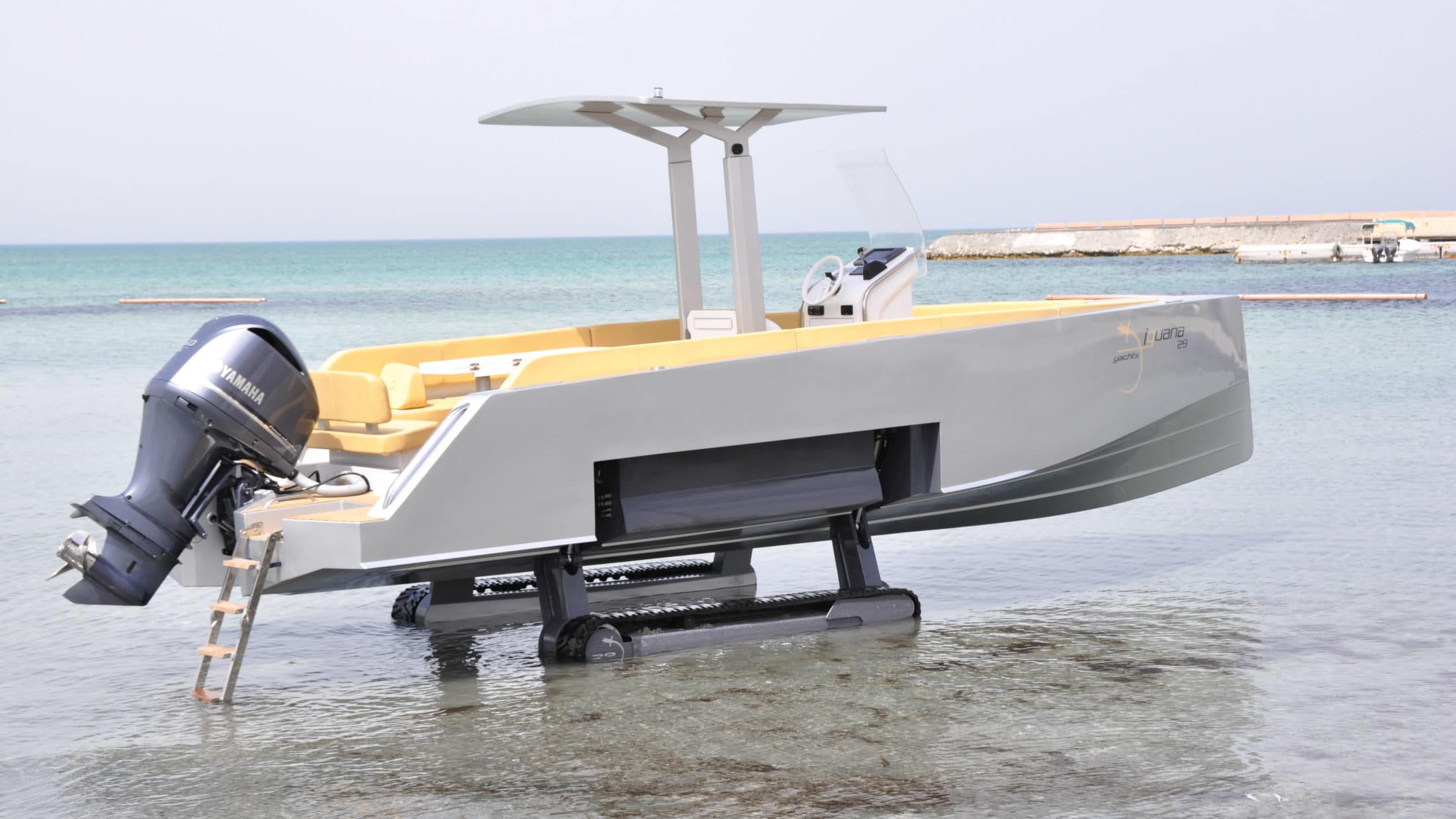 2013 – First Iguana Yachts sold in Bahrain
Today, thirteen years after the birth of the concept in Granville, it is in this same city that the 54th Iguana Yachts lays its tracks. This coincidence allows the Iguana team to realize how far they have come and to look back with pride at all the beautiful projects that have been accomplished since then.