Over the past ten years, we have acquired a lot of experience and knowledge by designing, building and perfecting our different models. The Iguana Sport is a mix of our best models to create a boat that is both faster and stronger and that combines aesthetics and versatility.
If you know our brand, we got inspiration from the X100, the Original, the Knight and the Pro Rider to create this rigid-hull boat, built for speed and day boating.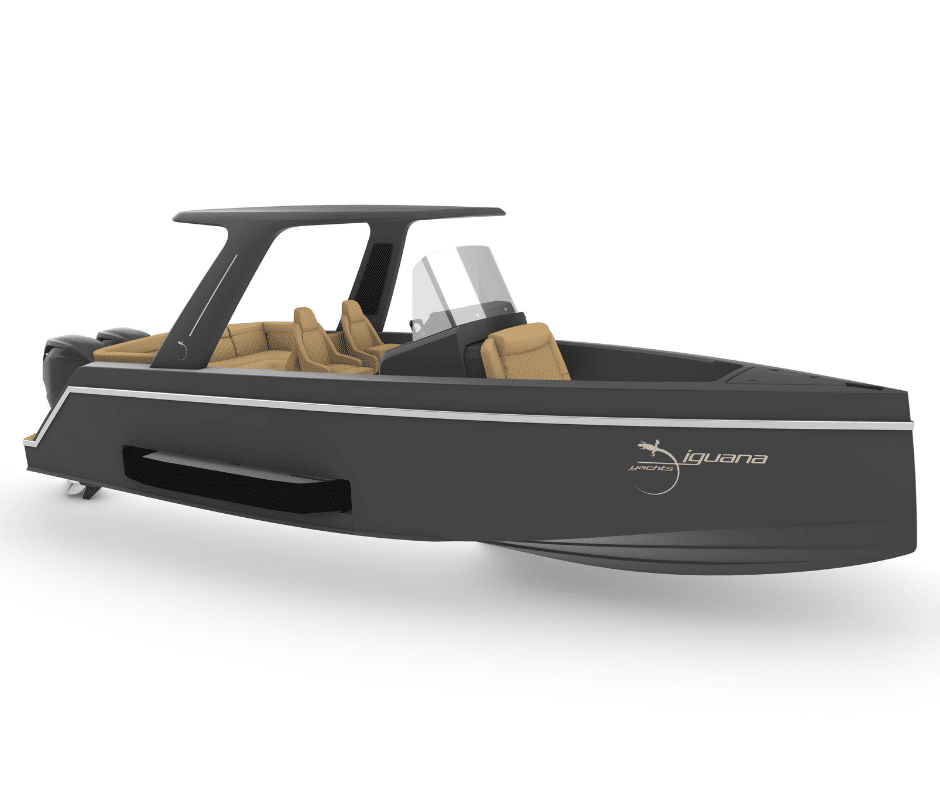 A MORE PRACTICAL AND VERSATILE DECK
The Iguana Sport is above all a very practical boat made for multiple activities such as cruising, water sports, family trips and sunbathing.
Inspired by the Iguana Original, the Iguana Sport is the new version of the center console Iguana boat. The Original was the first model ever designed by Iguana Yachts. This first boat offered a very powerful and unique design that is both beautiful and groundbreaking. Today, this Original model is very much appreciated by superyachts as it is compact to fit in garages and as it offers a lot of seating capacity to transport guests. With the Iguana Sport, we wanted to offer an open center console boat suitable for more people and activities with a more classic deck.
Our engineering team worked on creating a more spacious deck for life onboard and they extended storage spaces. With a nice seating area at the back, a comfortable dual seat at the front and two helm mitigating seats, the Sport provides comfort and space. Just like the Original, the Sport has a nice center console but it is wider for a more enjoyable driving experience. It is now possible to opt for 2 navigation screens on the Iguana Sport. With lots of space inside the boat, it is easy to embark equipment for water sports, snorkeling or fishing.
THE FASTEST IGUANA SO FAR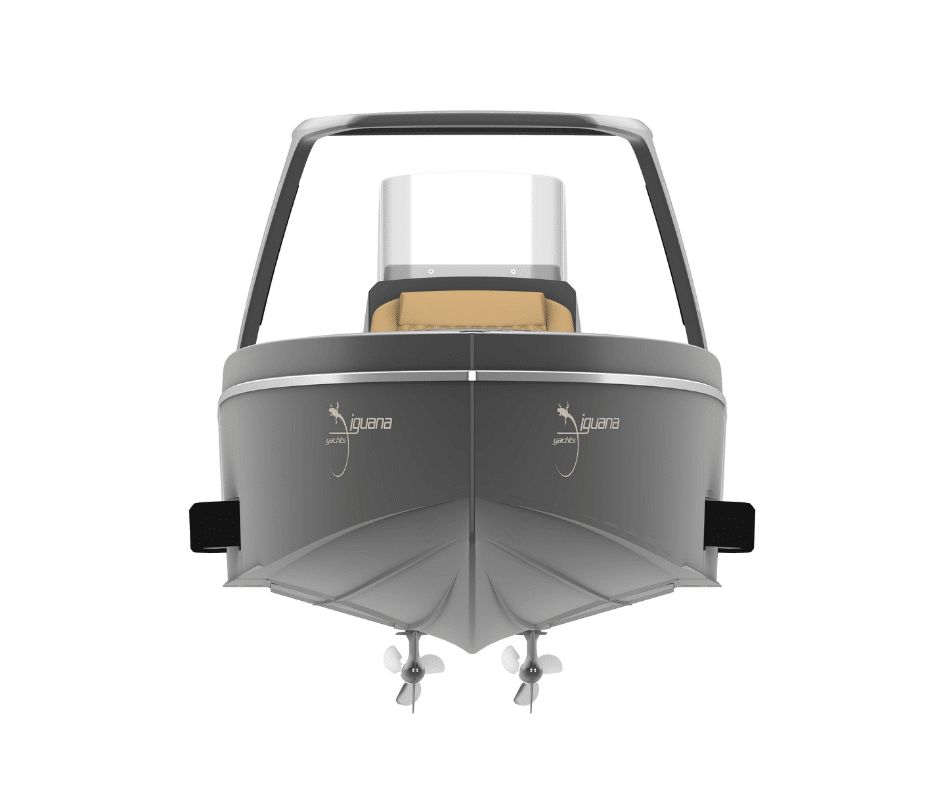 The Iguana Sport is the fastest model in the Iguana range. It is designed for speed. With a very strong reinforced hull, the Sport can withstand two 450 HP Mercury outboards. With its V-shaped hull fitted with powerful engines the Sport easily reaches 56 knots.  Nevertheless, it is a comfortable boat suitable for family trips and life onboard. The Sport has a high hull that makes it very dry even in rough seas. 
A BEAUTIFUL DESIGN WITH IGUANA SIGNATURE LOOK
Just like any other Iguana, the Iguana Sport is both beautiful and well designed. The well known French designers, Antoine Fritsch and Vivien Durisotti have worked to create a boat with a classic mediterranean look. With sleek lines, a very minimal and chic aesthetics, the Iguana Sport will appeal to boaters drawn to beautiful products. 
The Iguana Sport is also customizable with many options from integrated hard-tops to custom painted engines and underwater LEDs. 2 Iguana Sports are currently being built at the shipyard. A snow white Iguana Sport with classic grey upholstery and a metallic grey Iguana Sport with a carbon fiber Hard Top. The Iguana Sport is the perfect combination of aesthetic and functionality.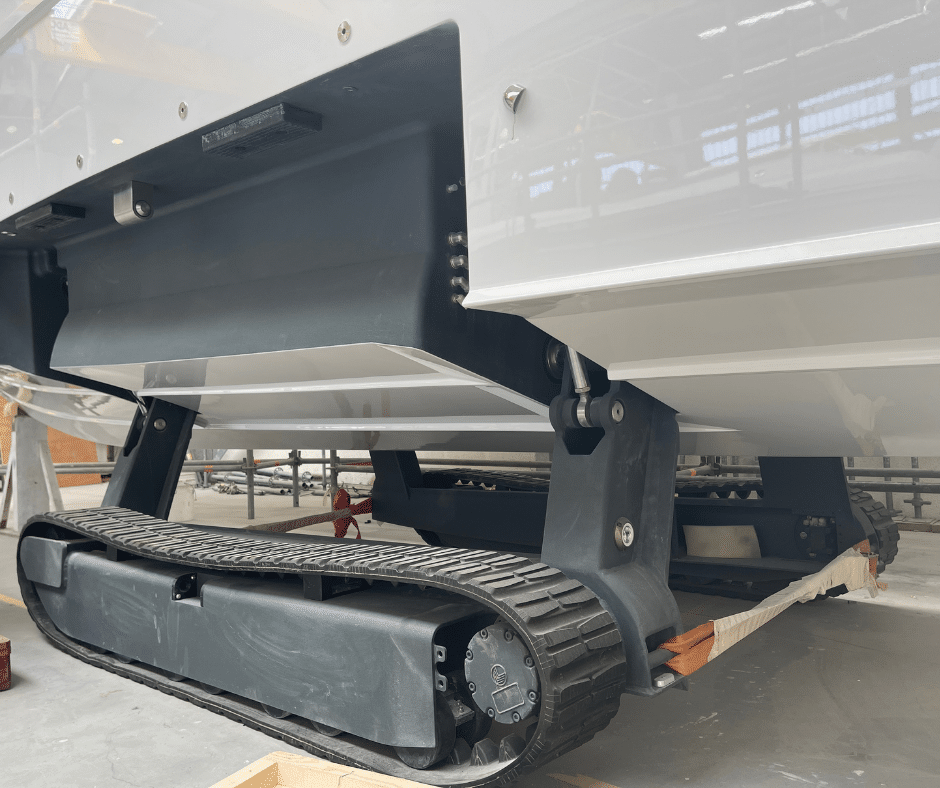 With this model, we would like to give our customers a completely different day boating experience. Something sporty, functional and beautiful. An experience you could only have with Iguana. This is one of our best pieces: the Iguana Sport. 
ENJOY WITH EASE AND STYLE
Its perfectly convenient deck layout and simple features make the Iguana Sport a classic boat made for all types of uses and activities. The Iguana Sport provides you with all the comfort needed to spend time at sea. It is the perfect combination of elegance and relaxation. It is above all a powerful easy to drive boat. 
LOA 9.20m
BEAM (min) 3.12m
Height (min) 2.13m
Power (Max) Mercury 450HP
Speed (max) 56 knots
Seating Capacity 12 passengers