At Iguana Yachts, we are originality enthusiasts. As a passionate and innovative team, we love a good challenge. 
A client who happens to be a motorcycle enthusiast specifically asked us to be able to add two motorcycles on board his Iguana Knight Custom. this was a new challenge for us that we accepted eagerly. 
In order to do this, we had to solve multiple issues such as: how to manipulate the motorcycles onboard, how to manipulate and secure the motorcycles onboard, and which equipment to install without compromising the vessel's performance. And we succeeded. 
The bow was designed and optimized for different configurations:
Transport of two motorcycles
Transport of passengers
Transport of an additional fuel tank for more autonomy
To answer the different use cases, the front deck was equipped with Ullman rails in order to make the boat versatile.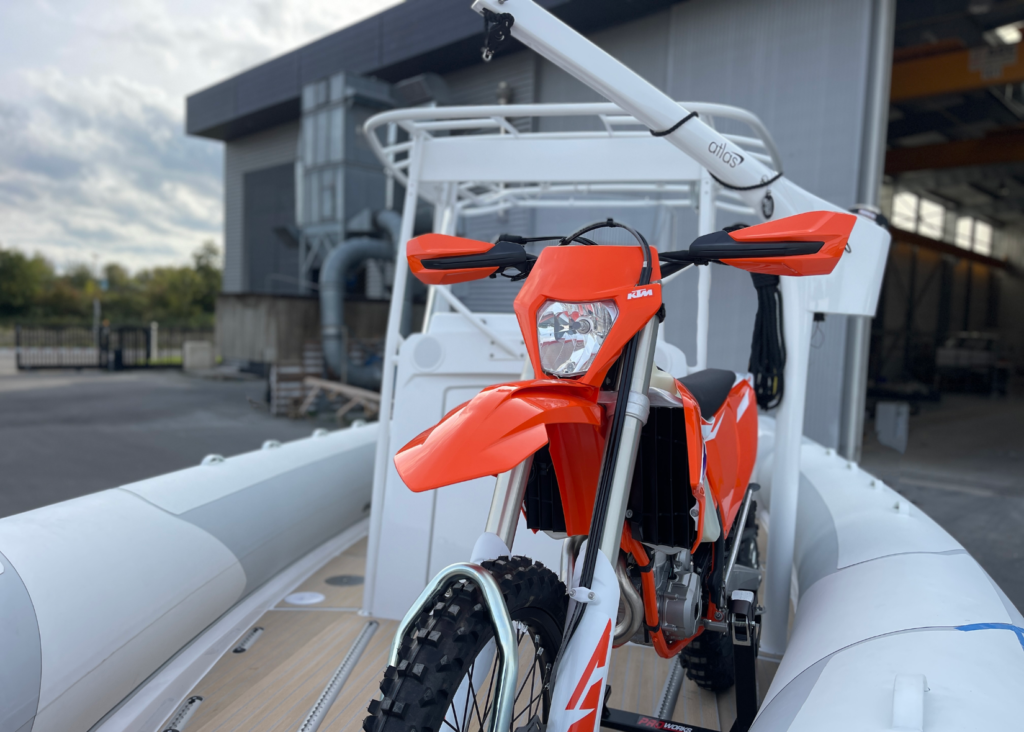 The boat is equipped with a comfortable front seat that can be fixed on the Ullman rails and dismantled quickly and effortlessly. To ensure that the front hatch stays watertight, we had to design a specific hatch that could be used in any configuration. The additional tank can be easily stored at the bow by means of numerous Ullman rails available. An electric pump system transfers fuel from the removable fuel tank above the deck to the standard 500L fuel tank below the deck.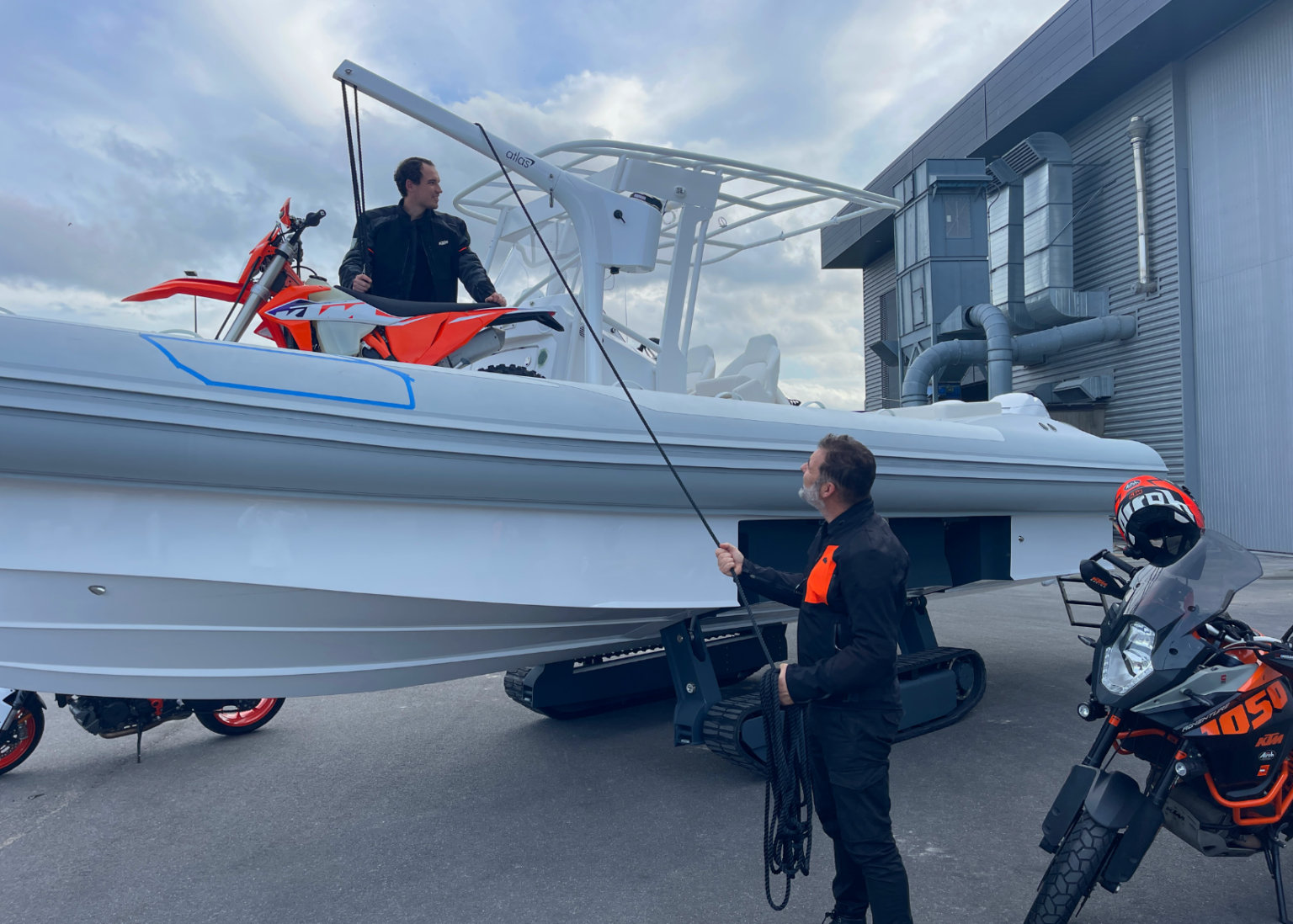 Concerning the lifting procedure, it was necessary to use an electric crane, the Atlas Baby 500 which has the advantage to be light, and dismantlable at sea, and must not, in any case, hinder the pilot's view. During the design phase, we established that for safety reasons the crane should be completely dismantled into two parts and secured on each side of the console. And of course, it should not be used while cruising. This specific demand impacted the core of the boat: the structure had to be rearranged and locally reinforced. The fact that it is electric adds comfort and ensures the safety of the handler: the bikes can be maneuvered remotely. 
Securing the motorbikes, we use a "Steadystand" that blocks the front wheel and a foot locker with quick storage ability. Both systems are fixed on frames designed to be bolted on the Ullman rails. All items listed above are designed to be removable to go from one configuration to another.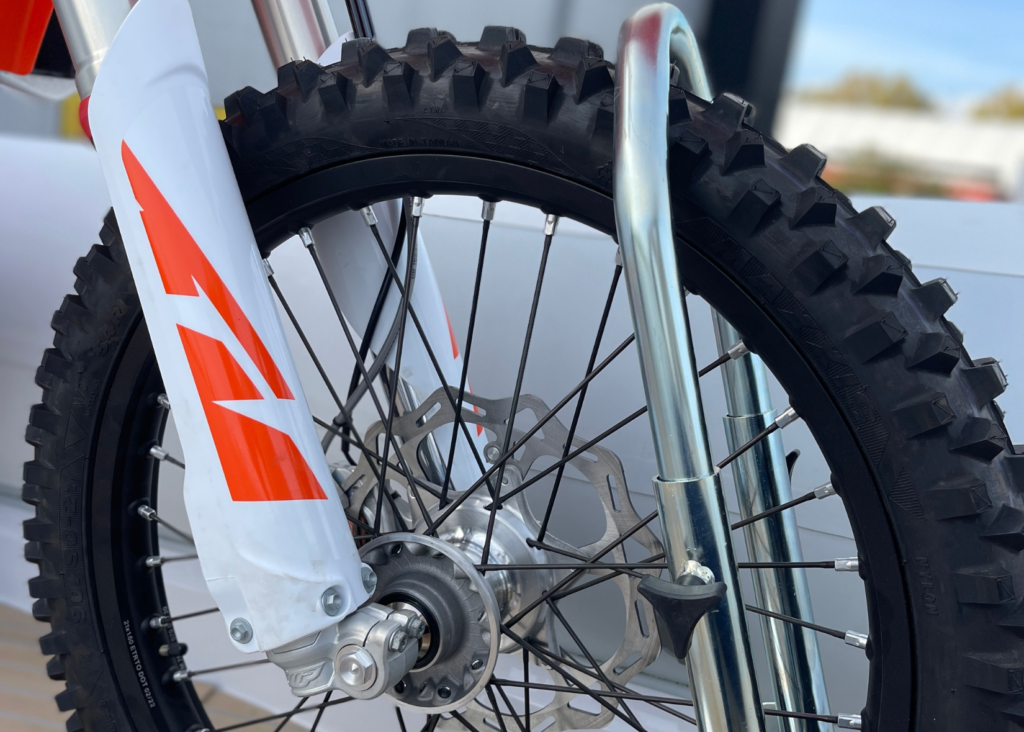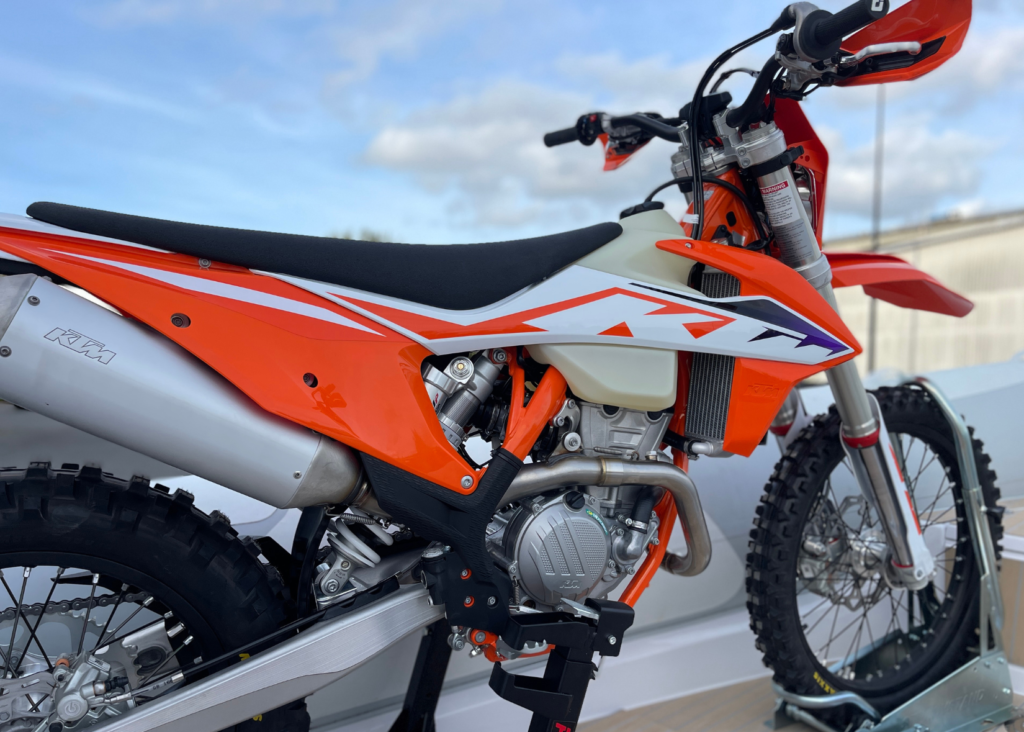 An amphibious boat offers greater flexibility than a classic boat, allowing it to do various things. Explore, and enjoy your passions, like motorcycling for instance. The Iguana gives you more versatility and possibilities when exploring. Create your perfect amphibious boat, and customize it to your needs.
Let your imagination run wild. Be different. Get an Iguana.